Past Games
Pre-sales for FC members
Ending Soon!
ENGLISH TOKYO MYSTERY CIRCUS限定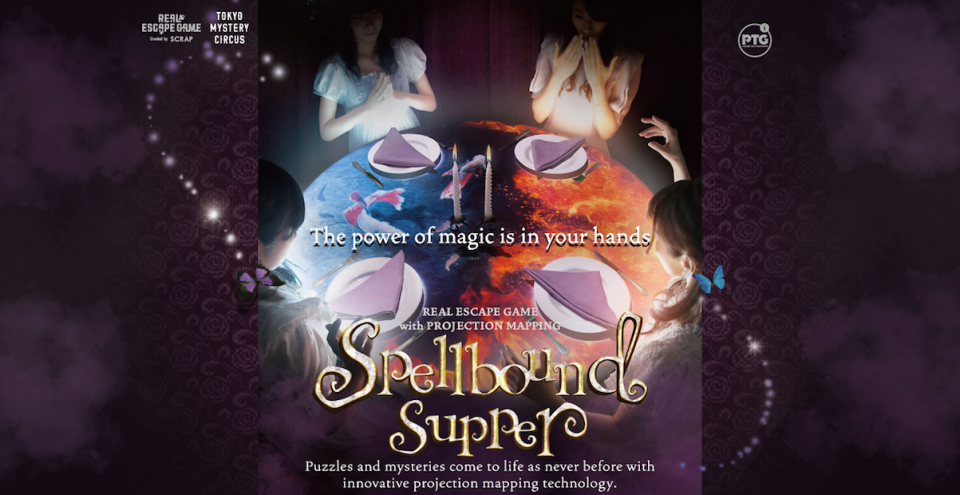 Spellbound Supper
With the latest technology, magic will be cast on your dinner table!
An interactive projection mapping experience where you are the main character!
Story
Whispers on the wind tell of a mystical dinner hosted by a powerful witch. Rumor has it great power lies in store for those who attend.
But beware, the witch does not take kindly to those she deems unworthy of dining with her, and her dinner guests are often never seen again.
Prepare to risk everything to prove your worth.
Do you have what it takes to summon the power of magic and outwit the witch?
Game Details
Time limit

60 minutes

Total time spent

About 100 minutes

Team Size

Maximum 5 players per table

Area

Indoors

Starting time

Starting time is fixed
How to play
① Buy tickets for your preferred date and time slot. Maximum 5 players per table.
Up to 45 people can play at the same time during each session.
② Arrive 10 minutes before the game starts to register.
③ Listen carefully to the game explanation and caution points. Start the game! You have 60 minutes.
④ Game ends. Listen to the debrief where the puzzles are explained.
Ticket Prices
【Weekday】
Advanced Tickets:3,200yen
Advanced Student Tickets:2,900yen
Advanced, Group Ticket (max 5 players):14,500yen
At-the-door Tickets:3,500yen
At-the-door Student Tickets:3,200yen
At-the-door, Group Ticket (max 5 players):16,000yen
【Weekends,Holidays & High Season】
Advanced Tickets:3,500yen
Advanced Student Tickets:3,200yen
Advanced, Group Ticket (max 5 players):16,000yen
At-the-door Tickets:3,800yen
At-the-door Student Tickets:3,500yen
At-the-door, Group Ticket (max 5 players):17,500yen
FAQ (Game specific)
Q.What time do I have to arrive for the game?

A.Please register 20 minutes before your game session starts.
**Due to the nature of the game, you may not be able to join the game if you arrive late.
Q.How long will the game take?

A.The game itself is only 60 minutes long. However, please estimate the total time to be 90 to 100 minutes including waiting time, explanation of the game, and debrief time after the game has ended.
Q.Will we get to eat during this game?

A.No actual dishes for consumption will be served during this game. Please enjoy the game's "virtual food" that is served through magic.
Q.Can a wheelchair-bound person play?

A.Yes, it is possible.
Q.Is there an age limit?

A.Players aged elementary school and above will require a ticket to play. This game can be enjoyed by elementary to high school aged players. However, to fully enjoy the game, we recommend that an elementary school aged player is accompanied by a guardian.
It is common for the guardian to be too absorbed in the puzzles and lost sight of their children while playing. Please be careful of this. Also, this is a team effort game. Please make sure the child does not cause inconvenience to other players at the same table.
Q.Can children or non-Japanese play?

A.If the child can read and write, they can play. This game is available in both Japanese and English, so non-Japanese can choose to play the English version.
Q.Is it fixed seating or according to the ticket serial number?

A.It is not fixed seating or according to your ticket serial number. If you are coming with friends, don't worry if your ticket serial number are not together.
Q.Can I take photos during the game?

A.Yes, you can. However, please do not show photos that contain clues or answers to the puzzles to someone who has not played it yet. Of course, please do not upload it onto the internet as well.
Q.Can I play this game more than once?

A.As there will be a debrief at the end of the game to explain how the game goes if you do not succeed, you are not allowed to play the game again because you will know all the answers.
Q.Can I upload spoilers onto my blog or social media?

A.Spoilers are prohibited for this game. Do not upload answers or photos of the puzzles to your blog, Facebook, Instagram, Twitter, or any other digital platform. Please also be careful when you discuss the answers to the game after it has ended. There will be many players in the same floor or facility who have not tried the game yet.
Game Limitations
Age limit for participating in the game

Elementary school and above
・Elementary school aged and above will require a ticket to play
・It is free of entry for pre-school children only if they are accompanied by a guardian age 16 and above
Recommended age to fully enjoy the game

Elementary school aged and above
Other conditions to note

Players afraid of the dark
Players sensitive to loud noises
Players sensitive to sudden changes in lighting
*There will be use of sound, light, and moving images during the game. Players who are sensitive to the above, please be careful.
Pregnant Women

✓ (take extra care)
Children in a baby stroller/pram

△ please enquire
Play while carrying person on the back

✓
Play while carrying a person

✓
Intoxicated individuals

×
Players with heart conditions

✓ (take extra care)
Players that are visually-impaired

×
Handicapped players (Unable to use hands)

△ (please enquire beforehand)
Deaf players

△ (please enquire beforehand)
Handicapped players (Unable to use legs)

✓
Wheelchair-bound players (Unable to use legs)

△ (please enquire beforehand)
Players with neck or spinal cord issues

△ (please enquire beforehand)
Players with mental disabilities
(To be confirmed on the spot)

✓ (*Only if the player is able to understand and follow the staff's instructions properly, and is accompanied by a guardian)