Past Games
Pre-sales for FC members
Ending Soon!
ENGLISH TOKYO MYSTERY CIRCUS限定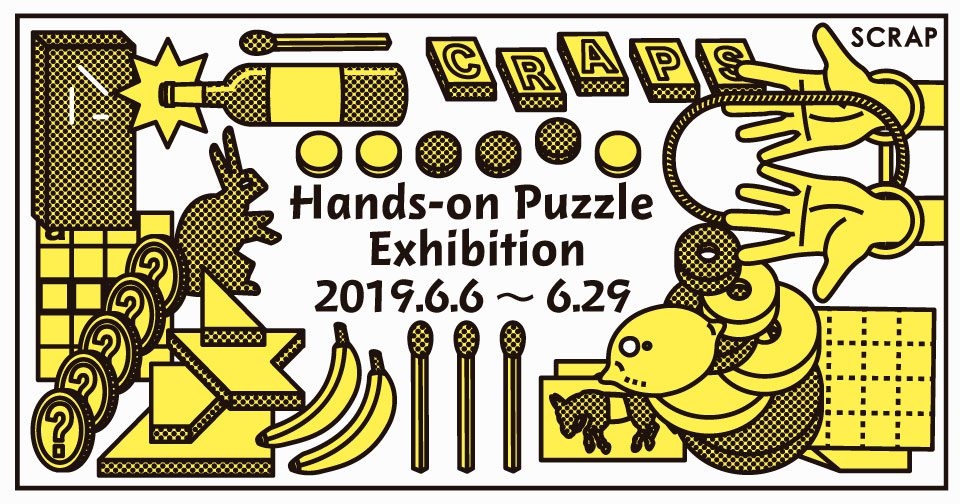 Famous puzzles from around the world gathered in one exhibition.
Touch the puzzles, feel them, and solve them.
A "hands-on puzzle exhibition" that will tingle your curiosity!
Begins 6 June 2019, at Tokyo Mystery Circus (Shinjuku)!
About
This exhibition allows all visitors to experience the puzzles first-hand by physically interacting with the exhibits.
The hands-on puzzle exhibition that lets you "touch, feel, and solve" the exhibits will showcase over 30 puzzles of varying sizes. These include world famous pieces like the matchstick and silhouette puzzles, as well as SCRAP original puzzles like the finger, shadow, and rope puzzles and more.
We hope you enjoy this puzzle-filled exhibition to your heart's content.
*Registration begins 15 minutes before the start of each time slot. You may not be allowed entry if you arrive late.
*It is possible that On-the-day Tickets may be available even if Advance Tickets are sold out online. (Due to last minute cancellations)
*Reissuing of tickets or refunds due to the customer's personal circumstances are not possible. It is also not possible to change your ticket type after purchase.
*Children age 5 and below can enter for free and must be accompanied by an adult.
*Children between age 6 and 12 are allowed entry only if they are accompanied by an adult, and will require a ticket of their own.
*Advance and On-the-day Ticket holders are not allowed to re-enter, while VIP Ticket holders can re-enter once.
Event Dates
– 2019.6.6~2019.6.29
Game Details
Time limit

120 minutes

Total time spent

120 minutes

Team Size

No Max Number of Participants

Area

Indoors

Starting time

Starting time is flexible
How to play
Get tickets
Buy tickets for the hands-on puzzle exhibition! Tickets can also be bought on the spot at the venue if advance tickets online have not yet sold out!
Go to Tokyo Mystery Circus
Head to Tokyo Mystery Circus at the time slot of your ticket!
Registration begins 15 minutes before your time slot!
Touch the puzzles and solve them
Browse over 30 puzzle exhibits including world famous pieces, as well as original SCRAP puzzles!
Venue
B1 Secret Base Lab (Hall)
Ticket Prices
Advance Ticket: 1,800 yen
– Fixed time slot, maximum stay of 2 hours
On-the-day Ticket: 2,000 yen
– Fixed time slot, maximum stay of 2 hours
VIP Ticket: 5,800 yen
*Note: The VIP tickets are only available in Japanese
– Comes with a puzzle catalogue, VIP-limited puzzles, and a VIP badge
– One free drink voucher for yelo CAFE (L1)
– One free re-entry (retry not allowed for normal tickets)
– Fixed slot / Priority entry *Enter without queueing or waiting
– Unlimited stay time *Stay as long as you want within opening hours
Ticket Sales Dates
Tickets go on sale: 18 May 2019 (Sat) 11:00~