Past Games
Pre-sales for FC members
Ending Soon!
ENGLISH TOKYO MYSTERY CIRCUS限定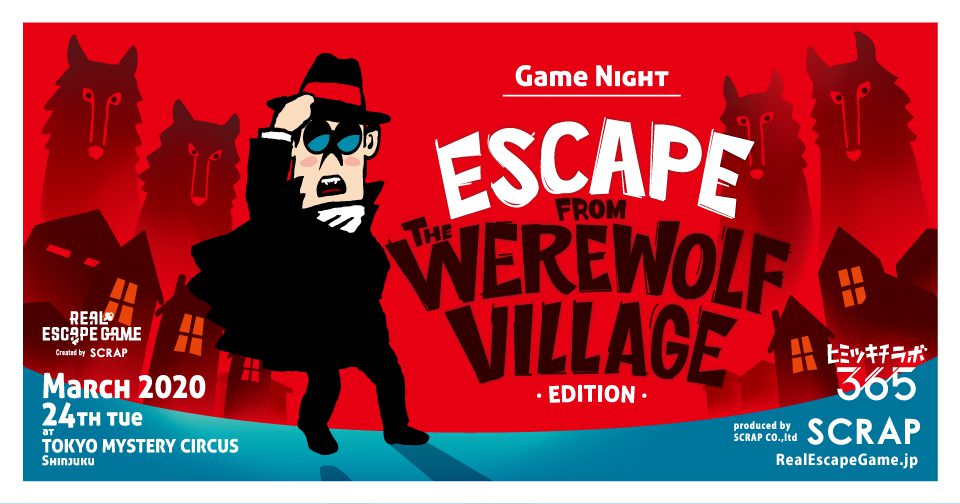 There is no escape, unless you find the werewolves.
Story
You lost your way and wandered into a village
where werewolves attack people night by night.
As the villagers disappear one by one,
you can feel the fangs of the werewolves
getting closer and closer to you.
Can you reveal all the mysteries in time,
and escape the Werewolf Village?
About
【Date】
2020/3/24(Tue)
OPEN 19:00 / START 19:30
【Venue】
5F Secret Base Lab 365
For more details about the event, please visit our special English website below!
Click here
Game Details
Time limit

60 minutes

Total time spent

About 100 minutes

Team Size

Maximum 6 players per table

Area

Indoors

Starting time

Starting time is fixed
How to play
① Buy tickets for your preferred date and time slot. Maximum 6 players per team.
Up to 80 people can play at the same time during each session.
② Arrive 10 minutes before the game starts to register.
③ Listen carefully to the game explanation and caution points. Start the game! You have 60 minutes.
④ Game ends. Listen to the debrief where the puzzles are explained.
Ticket Prices
Advanced Tickets:3,000yen
Group Tickets (max 6 players):18,000yen
*About Group Tickets
Tickets for your own table for a group of 1~6. For those who would like to challenge the game on their own, please purchase the Group Ticket for an entire table for yourself. (If you sign up as a group of 1~5, other players may be assigned to the same table.)
At-the-door Tickets:3,500yen
*This event will take place entirely in English. (There will be no Japanese text present in the game kit or used during the game itself.)