Ongoing Events
Pre-sales for FC members
Ending Soon!
ENGLISH TOKYO MYSTERY CIRCUS限定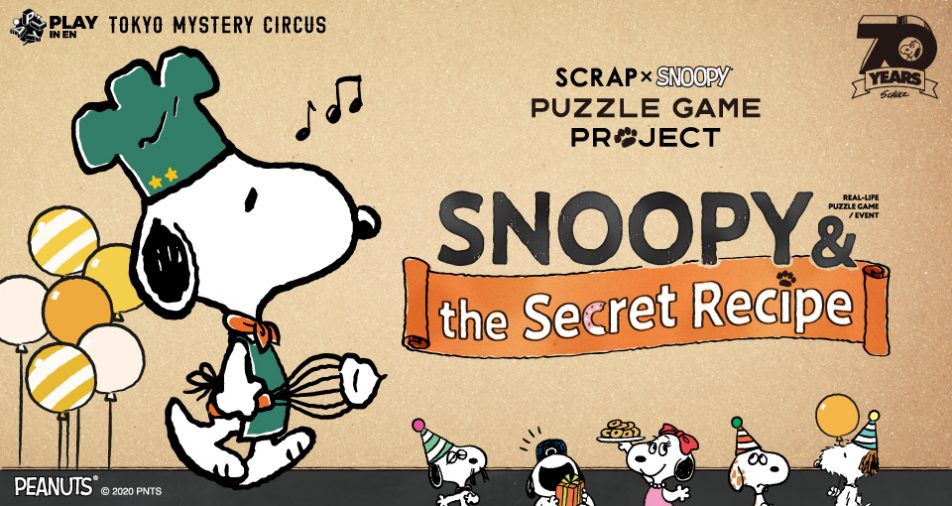 Snoopy transforms into a pastry chef?!
Help Snoopy complete his 'Special Dessert'!

The 2nd edition of the interactive puzzle event 'SCRAP×SNOOPY Puzzle Game Project' begins on June 11, 2020(Thu)!
Story
Today is Snoopy's birthday.
Snoopy suddenly recalls that he previously sent out invitations to his brothers and sister for their birthday party!
"To my beloved brothers and sister –
As you all know, August 10 is our birthday.
I have decided to throw a birthday party
for all of us on this special day.
I will be preparing a sugary feast
that will blow you off your feet.
Look forward to it!"
From Snoopy
Having forgotten his grand plan, Snoopy is in a state of panic!
Desperate, Snoopy reaches out to you for help.
Help Snoopy create the special dessert for his birthday party!
About
What is the SCRAP×SNOOPY Puzzle Game Project?
'SCRAP×SNOOPY Puzzle Game Project' – A puzzle-solving collaboration between SCRAP and PEANUTS!
Set in TOKYO MYSTERY CIRCUS, the 'SCRAP×SNOOPY Puzzle Game Project' is a 3-edition long interactive puzzle event featuring Snoopy and many original merchandise!
▼1st Edition: 'Snoopy and the Clue Solving Circus' & 15 kinds of limited edition original merchandise!
Official Event Page:
https://mysterycircus.jp/snoopy/en/
++++++++++
What is 'Snoopy and the Special Recipe' about?
During this live interactive event, you will explore Tokyo Mystery Circus in real-time and progress through the storyline as you solve a variety of puzzles.
The game will start as soon as you have exchanged your ticket for an envelope (containing this event's game kit) at the ticket counter.
Use either LINE or Facebook Messenger to communicate with Snoopy, and work together to solve a plethora of puzzles as you explore Tokyo Mystery Circus for clues!
There is no time limit or maximum number of players and, if you find yourself stuck, you can check out this game's official LINE or Facebook account for hints. This game can be enjoyed by anyone, regardless of whether you are just a beginner, or a puzzle-solving pro!
Game Details
Time limit

No Time limit

Total time spent

60~90 minutes

Team Size

No Max Number of Participants

Area

Indoors

Starting time

Starting time is flexible
How to play
■STEP1
Exchange your ticket for a game kit at the TOKYO MYSTERY CIRCUS ticket counter on 1F!
■STEP2
Install LINE or Facebook Messenger app onto your phone and start a chat with the official game account!
■STEP3
Start solving puzzles! You can receive more game material as you progress!
■STEP4
Complete the game by successfully creating the special dessert!
*Tokyo Mystery Circus is not responsible for any accidents or thefts should they occur during the game. Please be careful.
Ticket Prices
・Advance Ticket / On-the-Day Ticket: Both 1,700yen
・Advance Ticket with Merchandise: 4,700yen
☆ What is the 'Advance Ticket with Merchandise'?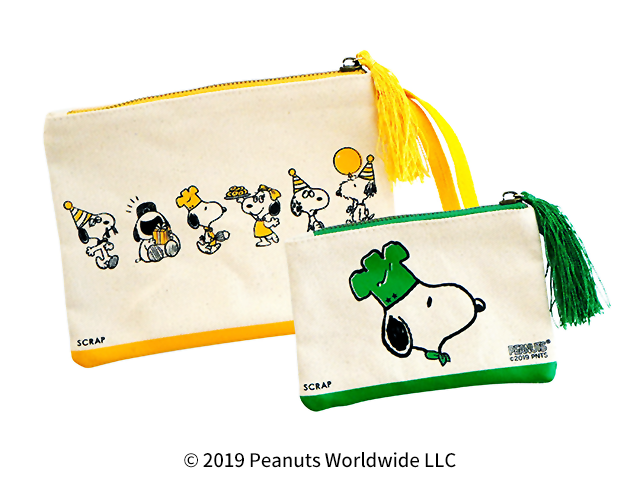 The 'Advance Ticket with Merchandise' will consist of one game kit for 'Snoopy and the Special Recipe', and 2 pouches sporting original designs with puzzles hidden in them (puzzles are in Japanese)!
The 2 original design pouches with puzzles hidden in them can only be obtained by purchasing the advance ticket that includes them.
The puzzles that come with these pouches are ranked a difficulty level of 4 out of 5 among all of SCRAP's puzzle goods (5 being the most difficult). They were made specially for you to slowly enjoy solving in the comfort of your home. Hints are available for beginners too!
*Please note that the puzzles in this merchandise are only in Japanese
▼SIZE
・Orange (Large): 200mm x 150mm
・Green (Small): 150mm x 100mm
*Advance tickets and on-the-day tickets are the same price.
*'Advance Ticket with Merchandise' must be purchased in advance. Also, the 2 pouches are not available for purchase on their own.
*If advance tickets are sold out for that day, on-the-day tickets will not be available as well.
*Tickets are only valid for the date and time frame listed on the front side or confirmation screen of your ticket.
*Please understand that we are unable to process refunds after the purchase of tickets has been made.
Ticket Sales Dates
■ General Sales Period: 11 June, 2020 (Sat) 12:00~
Tickets can be purchased through the official event page, Tokyo Mystery Circus' official app (only in Japanese), or directly over the counter at Tokyo Mystery Circus' ticket counter.
FAQ (Game specific)
Q.What items are necessary to participate in the game?

A.A smartphone or similar device that can be used to connect to the internet is necessary to participate in the game. Throughout the game, players will use either the LINE app or the Facebook Messenger app. Feature phones are not compatible with this game. We appreciate your cooperation in advance. Additionally, players should ensure that their smartphone is fully charged before the game starts, as it will be used throughout the duration of the game. There is nowhere to charge a smartphone at the venue itself.
Q.Is there a time limit?

A.There is no time limit. It may take quite a bit of time to complete the game, so we recommend that players give themselves a sufficient amount of time. It is possible to play the game over several days.
Q.If a group of people wants to play this game, is it necessary for everyone to buy individual game kits?

A.It is necessary for all players of this game to purchase a ticket. Please purchase enough tickets for everyone in your group, and do not forget to bring them along on the day you will participate in this game.
Q.Are tickets required for young children participating in this game?

A.Any player older than the age of 6 will require a ticket to play the game. Furthermore, elementary school and middle school students may not participate in the game without an accompanying player age 16 and over. Preschool children may participate for free if, and only if, accompanied by a parent or guardian who is also participating in the game.
Q.Can I post spoilers about the game on my personal blog or Twitter?

A.We have a strict No Spoilers policy. We strongly request that all participants refrain from posting any potential spoilers about this game, including photos, on their personal blogs, Twitter, Facebook, or other online platforms. We also ask that after having played the game, participants refrain from talking about their experience in loud voices as they leave the venue, in case other players happen to be passing by.
Q.I lost my kit halfway through the game. Can I get a new one?

A.It is not possible for us to provide players who have lost their kit with a new one free of charge. We ask any players who have lost their game kit to please purchase a new one in its place.
Q.Can I receive hints during the game?

A.Hints can be used throughout the game, so if you find yourself stuck, feel free to use them! For more information about how to use hints, please see your game kit once purchased.
Q.Can children participate in this game?

A.As long as they can read at elementary-school level, children will also be able to enjoy this game.
Q.Is it necessary to have any previous knowledge of Snoopy?

A.It is not necessary for players to have any previous knowledge of Snoopy before playing the game. However, fans of Snoopy and his universe may find this game and the references/backstory behind the game particularly enjoyable.